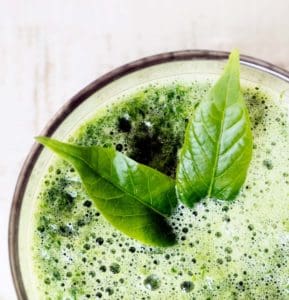 If you have a juice machine at home, you know there's nothing more delicious than a tall glass of freshly squeezed fruit juice particularly when the fruit is at the peak of its season.  Replicating the intense flavors, nutritional quality, and bright colors of truly fresh juice is extremely difficult for beverage manufacturers.  Visit any grocery store and you're likely to see two types of juice—"not from concentrate" 100% pure juice and juice made from concentrate.
What is the difference between these types of juice and how do you decide what's best for your family?
Direct Juice
Direct juice is a beverage made entirely from crushed fruit and its own natural juices.  This is similar to the glass of freshly made juice at home.  While most direct juices on the market are pasteurized—meaning they undergo a heated process to remove bacteria from the liquid to keep the product safely preserved while sealed—they are subjected to far fewer processing steps resulting in a more 'natural' product.  Producing a beverage in this manner creates a high-quality product.  Unfortunately, because the liquid is heavy and bulky the shipping costs are extremely high.  As an example, Brazil is one of the major suppliers of orange juice to the U.S. and Europe.  You can imagine the shipping costs of transporting a beverage across that distance.
As a result, many manufacturers rely on concentrated formulas.  In this same example, juice manufacturers in Brazil are able to ship their juice to distributors internationally at about 1/5 the cost. Once at its destination, the product is rehydrated and packaged for consumers.   This makes a much more affordable product on store shelves.  Affordability comes with its own tradeoffs though.
Concentrated Fruit Juices
Fruit juice concentrate removes water from the material, resulting in a mix of approximately 65%-70% soluble solids.  Along with lowering shipping costs, this process can ensure a consistent quality of end product (color, flavor, and nutritional content) for consumers.
There are a number of methods that can be used to make a concentrated product.  A common method, unfortunately, is to use high heat.  This process is called "thermal evaporation" and as the name applies, as the liquid is heated, the water content turns to vapor and the resulting contents represent the concentrated compound.  This process can change the chemical composition of the remaining fruit material destroying essential nutrients and enzymes, and change the taste of the fruit from the "cooking" process.  Other methods such as "cold-water condensation" tend to have a better taste, but the resulting beverage is still far less quality than direct juice drinks.
Second, sometimes manufacturers will mix multiple concentrate materials together at the distribution facility to create a new formula.  For example, mandarin has a sweeter taste and is less expensive, so it may be mixed with the orange concentrate either with or without proper disclosure on the packaging.  Other popular shelf brand juices use a base of apple or grape juice that is less expensive to produce but also contains a much lower nutritional value.  For example, orange juice contains approximately 223 more milligrams of potassium than apple juice.
Third, concentrated juices contain additives and preservatives to make up for nutritional elements lost during the manufacturing process as well as provide the consumer a long shelf life.  Sodium benzoate is often used to slow the growth of bacteria in many juices.  Ascorbic acid is added to make up for depleted vitamin C levels.  Yet combining sodium benzoate and vitamin C have been known to create a carcinogenic chemical.
What kind is best for you?
Does this mean you shouldn't drink concentrated fruit juices?  Not necessarily.  These formulas make options more affordable for many families and create feasible logistics for beverage manufacturers and distributors.  A higher-quality product with more nutritional value will likely come with a higher price tag.  The key is to understand what level of nutritional value you are getting in the specific beverage you are selecting and to use proper moderation to achieve appropriate nutritional intake.